сериал The Handmaid's Tale (Рассказ служанки) на английском с субтитрами
Сезоны:
1 сезон
Посмотреть описание

Offred, one the few fertile women known as Handmaids in the oppressive Republic of Gilead, struggles to survive as a reproductive surrogate for a powerful Commander and his resentful wife.

Посмотреть описание

Offred and her fellow Handmaids assist with the delivery of Janine's baby, prompting Offred to recall her own daughter's birth. Offred draws closer to Ofglen while dreading a secret meeting with the Commander.

Посмотреть описание

Offred visits Janine's baby with Serena Joy and remembers the early days of the revolution before Gilead. Ofglen faces a difficult challenge.

Посмотреть описание

Punished by Serena Joy, Offred begins to unravel and reflects on her time with Moira at the Red Center. A complication during the Ceremony threatens Offred's survival with the Commander and Serena Joy.

Посмотреть описание

Serena suggests to June that she have sex with Nick in case Commander Waterford is sterile. Later that day, Serena leads June up to Nick's room and waits by the door while June and Nick have detached sex. Flashbacks detail June and Luke's first meeting and courtship. During a Ceremony night, the Commander touches June's thigh, which she later tells him never to do again, and confronts him about Emily. He admits that while they thought they were building a better world, they knew that "better never means better for everyone." June also confronts Nick, who reveals that he is indeed an Eye. At an open-air market, June questions Emily about the resistance group (which is called Mayday). Emily jumps behind the steering wheel of a security car and drives erratically around the plaza. She hits a guard, and is caught and put into a black van. June returns to Nick's coach house alone, and they have passionate sex.

Посмотреть описание

A Mexican Ambassador visiting Gilead questions Offred about her life as a Handmaid. Serena Joy reflects on her marriage and the role she once played in Gilead's inception.

Посмотреть описание

A flashback chronicles Luke's story after he was separated from June and Hannah. Luke is shot and injured but escapes when the ambulance crashes. He passes out from his wounds and is rescued by a resistance group traveling to Canada with many survivors, including Erin, a mute escaped handmaid and Zoe, the daughter of a US Army soldier. Initially reluctant, Luke joins them after Zoe shows him that Gileadan authorities hanged people from the rafters of their church for resisting. As they board a boat, Gileadan guards kill several members of the group, but Luke and Erin manage to survive. A further flashback shows Luke, June, and Hannah before they were separated. June and Luke are helped by Mr. Whitford, a man who knew June's mother. He leaves them at a secluded cabin in the woods while he arranges documentation for them to escape to Canada. However, he is caught and hung, and a local hunter attempts to help them instead. Three years later, in the present, Luke and Erin live safely in "Little America", based in Toronto. While in the main administrative office, Luke receives the letter from June which reads, "I love you so much. Save Hannah."

Посмотреть описание

The Commander surprises Offred with a secret adventure in Gilead. Nick's troubled past leads to his recruitment by the Sons of Jacob.

Посмотреть описание

Offred embarks on a dangerous mission for the resistance. Janine moves to a new posting. Serena Joy suspects the Commander's infidelity.

Посмотреть описание

Serena Joy confronts Offred and the Commander. Offred struggles with a complicated, life-changing revelation. The Handmaids face a brutal decision.
2 сезон
Посмотреть описание

Offred reckons with the consequences of a dangerous decision while haunted by memories from her past and the violent beginnings of Gilead.

Посмотреть описание

Offred adjusts to a new way of life. The arrival of an unexpected person disrupts the Colonies. A family is torn apart by the rise of Gilead.

Посмотреть описание

Offred reflects on her relationship with her mother as she navigates her way through Gilead. In Little America, Moira tries to cope with the trauma she endured.

Посмотреть описание

A baby shower provokes a troubling shift in Offred's relationship with Serena Joy. Offred reckons with the choice she made that led her to become a Handmaid.

Посмотреть описание

Offred spirals as a Gilead ceremony disrupts her relationship with Nick. Janine tries to adjust to life in the Colonies, jeopardizing her friendship with Emily.

Посмотреть описание

Offred finds unexpected allies and obstacles in her search for a way to protect Hannah. The Commander prepares for the dedication of a new Red Center. Nick struggles with his new assignment.

Посмотреть описание

An attack sends shockwaves through both Gilead and Little America. Serena Joy makes a dangerous choice in order to protect her family. Moira searches for someone from her past.

Посмотреть описание

A sick baby tests Offred and Serena. Janine finally faces Naomi.

Посмотреть описание

The Waterfords embark on a diplomatic trip abroad. Serena faces the temptation of life outside Gilead. Luke and Moira grapple with survivor's guilt. Offred seeks support from allies.

Посмотреть описание

A frustrated Serena becomes desperate. The Commander tries to make amends with Offred. Nick pushes Eden farther away. Offred is faced with an unexpected reunion.

Посмотреть описание

Offred faces a grueling challenge alone as she recalls her life as a mother. Serena Joy and the Commander deal with the fallout of their actions towards Offred.

Посмотреть описание

Offred is sent to a familiar place. Nick is rocked by Gilead's brutal response to a crime. Emily is assigned to a mysterious new house.

Посмотреть описание

Serena and the other Wives strive to make change. Emily learns more about her new Commander. Offred faces a difficult decision.
3 сезон
Посмотреть описание

June embarks on a bold mission with unexpected consequences. Emily and Nichole make a harrowing journey. The Waterfords reckon with Serena Joy's choice to send Nichole away.

Посмотреть описание

June helps Marthas with a dangerous task while navigating a relationship with her pious and untrustworthy new walking partner. Emily and Luke struggle with their altered circumstances.

Посмотреть описание

June navigates a meeting where she must face both Commander Waterford and Nick. Serena Joy attempts to recuperate at her mother's home. Lawrence teaches June a hard lesson about the difficult decisions he makes as a Commander.

Посмотреть описание

June negotiates a truce in the Waterfords' fractured relationship. Janine oversteps with the Putnam family, and a still-healing Aunt Lydia offers a brutal public punishment.

Посмотреть описание

June and Serena grapple with a new revelation about Nichole, leading to an incident that will have far-reaching ramifications.

Посмотреть описание

June accompanies the Waterfords to Washington D.C., where a powerful family offers a glimpse of the future of Gilead. June makes an important connection as she attempts to protect Nichole.

Посмотреть описание

June escalates her risky efforts to find Hannah. Emily must face her past crimes as the ongoing international diplomatic crisis becomes more complicated.

Посмотреть описание

June and the rest of the Handmaids shun of Matthew, and both are pushed to their limit at the hands of Aunt Lydia. Aunt Lydia reflects on her life and relationships before the rise of Gilead.

Посмотреть описание

Confined in a hospital, June's sanity begins to fray. An encounter with Serena Joy forces June to reassess her recent actions.

Посмотреть описание

June must deal with a devious ploy on the part of Commander Waterford.

Посмотреть описание

A return to Jezebels puts everything in jeopardy; Serena Joy and Commander Waterford take a clandestine trip.

Посмотреть описание

Gilead leadership is rocked by losses among their own. Luke and Moira adjust to new arrivals in Canada. June worries about disruptions to her plan, only to have tragedy strike the entire household.

Посмотреть описание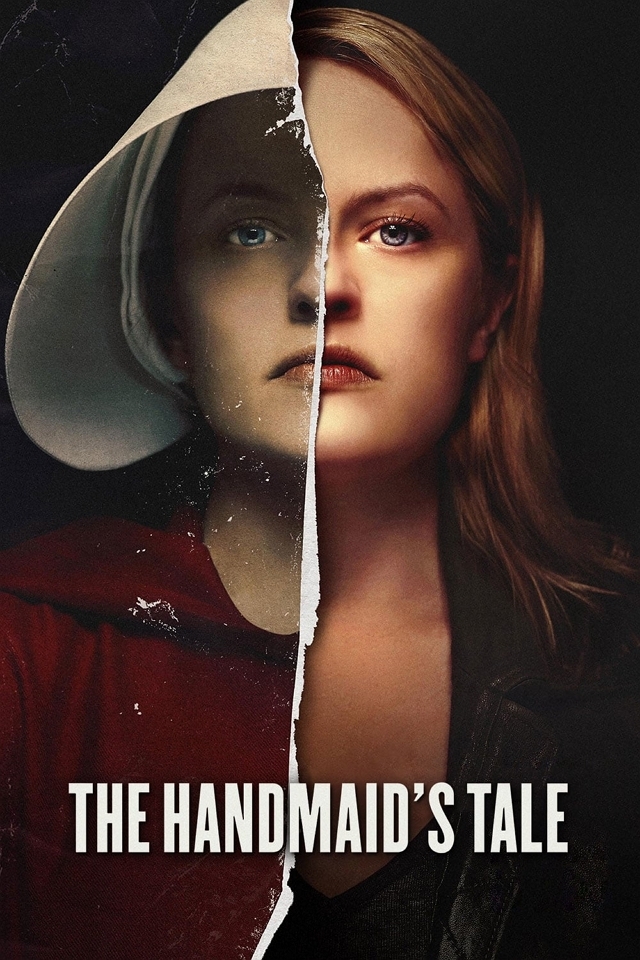 The Handmaid's Tale — американский антиутопический драматический веб-сериал, созданный Брюсом Миллером, основанный на одноименном романе 1985 года Маргарет Этвуд. Он был заказан потоковым сервисом Hulu на сезо из 10 эпизодов, для которых производство началось в конце 2016 года. Сюжет показывает мрачное будущее после второй Американской Гражданской войны, в которой тоталитарное общество подвергает плодородных женщин, называемых «служанками», детородному рабству.
Премьера первых трех эпизодов сериала  состоялась 26 апреля 2017 года; последующие семь эпизодов были выпущены каждую среду. В мае 2017 года сериал был продлен на второй сезон, премьера которого состоялась 25 апреля 2018 года. В мае 2018 года Hulu продлил сериал на третий сезон, премьера которого состоялась 5 июня 2019 года. В июле 2019 года сериал был продлен на четвертый сезон.
Сказка служанки получила признание критиков, и ее первый сезон выиграл восемь премий «Эмми» в прайм-тайм из тринадцати номинаций, включая выдающийся драматический сериал. Это первое шоу, произведенное Hulu,  которое выйграло главную награду, а также первую серию на потоковом сервисе, и выиграло Эмми за выдающиеся серии. Он также получил премию «Золотой глобус» за Лучший телесериал – драму. Элизабет Мосс также была удостоена «Золотого глобуса» за Лучшую женскую роль.