Смотреть онлайн в хорошем качестве курс английского языка — сериал Family Album USA 20 серия "Quality Time" с английскими субтитрами и упражнениями:
In this episode, you will study . . .
VOCABULARY
balance (a checkbook)
diner
ward
encourage
beyond
guarantee
frozen
harness
GRAMMAR AND EXPRESSIONS
though (at the end of a sentence)
hardly ever
Idioms: quality time
like ships that pass in the night
I don't get it.
fits right in with . ..
making a suggestion with How would it be if…?
may have + past participle
have + noun or noun phrase + infinitive
U.S. LIFE
When did literacy programs begin in the U.S.?
Who was Robert Frost?
YOUR TURN
Do you think that computers are helpful for literacy?
Do you enjoy reading poetry?
Упражнения и Словари к 20 эпизоду Family Album USA:
Act 1
Спойлер
balancing his checkbook.
At the end of each month, most banks send you a
statement of your checking-account activity. This
includes a record of the checks you wrote that were
paid by the bank. When you compare your own
checking-account records with the records in the bank
statement, vou are balancing your checkbook. You
want to be sure that the total amount of money, or
balance, in your own records matches the balance
shown on the bank statement.
diner: a small, informal restaurant sometimes built to look like the dining car of a train. A diner usually serves breakfast, lunch, and dinner any time of the day. Many diners are open 24 hours. In recent years, some diners have become larger and more elegant than the traditional diners of the past.
A cookie can't hurt, though. At the end of a short sentence, though has the same meaning as But at the beginning of a sentence. Philip might also say, «But a cookie can't hurt.»
be off to: to go to
hardly ever: almost never; seldom; rarely
propose to do: to suggest doing
You have that look in your eye. Use this expression when you can see that someone has an idea—and you've seen a similar look on the person's face before.
quality time. When people spend time together doing something that they enjoy or something that they feel is useful, they are spending quality time together.
U.S. LIFE
Philip and Ellen's situation is common in many American families today. Couples are often so busy with work and other responsibilities that they may not be able to spend much time together. People often say that the quality of time they spend together is more important than the quantity of time. In other words, how you spend your time together is more important than how much time you spend with someone.
YOUR TURN
Do you feel that you spend enough quality time with the people you love?
Activities
QUALITY TIME
How have Philip and Ellen's lives been recently? Read the following sentences. Put a check next to the number of each true statement.
__ 1. Philip has been cooking dinner for Ellen.
__ 2. Philip has been working late at the hospital
__ 3. Ellen and Philip have been working together.
__ 4. Philip and Ellen have been eating dinner together.
__ 5. Ellen has been working on committees.
__ 6. Philip has been doing paperwork.
__ 7. Ellen has been spending a lot of time at home.
__ 8. Ellen has been going to school-board meetings.
A QUICK NOTE
Read Ellen's note to Philip. When you leave a quick note for someone, you sometimes do not write complete sentences. You also may use shorter forms of some words. For example, in Ellen's note, several words are missing. Also, she used the word fridge, an informal way to say refrigerator. With complete sentences, Ellen might have written this: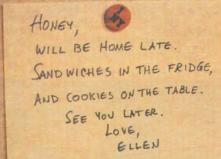 DEAR PHILIP, I WILL BE HOME LATE. THERE ARE SANDWICHES IN THE REFRIGERATOR
AND COOKIES ON THE TABLE. I'LL SEE YOU LATER. LOVE, ELLEN
Or
DEAR PHILIP, I WILL BE HOME LATE. I LEFT SOME SANDWICHES IN THE REFRIGERATOR AND SOME COOKIES ON THE TABLE. I'LL SEE YOU LATER. LOVE, ELLEN
Here is a note that you might leave for your boss. On the lines below, rewrite the note in complete sentences. Be sure that each sentence has a subject, and add all necessary articles (a, an, or the). Add possessive pronouns (for example, my, your) before nouns, if needed.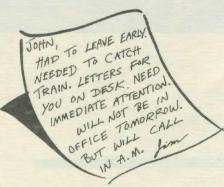 _______________ ___________________________ _______________ _______________________ _____________________ _____________________ _________________ ______________________ __________________________ ____________________ _________________ _______________________________
Act 2
Спойлер
up:
awake
this: so
Come on. = Tell the truth.
around: at home
like ships that pass in the night.  Use this expression to describe people who don't spend much time with each other, and sometimes see each other only for a few moments.
one fantastic mom: a wonderful mother. To add emotion to a phrase, use one + adjective + noun instead of a + adjective + noun.
I think you ought to . . . Use these words to begin a strong suggestion.
ward: a particular area of a hospital containing a number of patients, such as a children's ward
for them to be paid attention to: for someone to pay attention to them
How would it be if you took some time . . . ? Use How would it be if (+ subject -I- past verb) to make a suggestion.
work (with Dad) towards.  You work towards a goal, something you want to accomplish.
I don't get it. = I don't understand.
fits right in with: goes together with
encourage: to help make something happen
U.S. LIFE
Literacy is the ability to read and write. For many years, the U.S. has offered programs to help the population become functionally literate—to be able to do the reading, writing, and arithmetic that is necessary in daily life. These programs began when the U.S. Army wanted to improve the literacy skills of soldiers during World War I. Today, there are literacy programs in schools and libraries all across the country.
YOUR TURN
Do you think that computers will help to increase literacy in the world—or will computers make literacy skills less necessary? Is illiteracy (not having the ability to read and write) a problem in your country? If so, what is being done about it?
Activities
«I DON'T GET IT»     «I GET IT»
When Robbie begins to explain his plan tor a reading program in the hospital, Ellen doesn't understand his idea. She says, «I don't get it.» I he lists of expressions in the box at the right shows different ways to say that you don't understand or do understand what someone is trying to explain.
Imagine that someone says each of the following five statements to you. All five statements are true. Think about whether or not you understand each idea. Practice using the different expressions at the right by responding honestly to each statement below. Of course, there are many possible ways to respond to each statement. Don't worry if you don't understand it. Just say so!
1. «Reading is one of the main ways of transmitting a culture from one generation to another.»
2. «According to Einstein's theory of relativity, E = mc2 .»
3. «The impressionist painters used complementary colors to create light and shadow.»
4. «In English, the present perfect verb tense relates a past occurrence to the present moment.»
5. «Many scientists expect the carbon dioxide content of the air to double by the year 2050, and this may lead to changes in climate patterns around the world"
SHIPS THAT PASS IN THE NIGHT
Robbie told Ellen, «You and Dad are like ships that pass in the night.» Then Robbie slowly presented his idea for a way that Philip and Ellen could spend some time together. In what order did he present his argument to Ellen? Number the following items from 7 to 6 to show the correct sequence. The first answer is given.
__ a. «Why don't you talk to him about it tomorrow?»
__ b. «I think I have an idea that will bring Dad and you together in a more scheduled way.»
 1 c. «There must be a way that Dad and you can spend more time together.»
__ d. «Like setting up a regular weekly reading program…. You and Dr. Philip Stewart—going to the children's ward once or twice a week and reading to them.»
__ e. » . . . how would it be it you took some time to work with Dad towards solving that problem?»
__ f. » . . . you know how Dad is always talking about the kids in the ward and how important it is for them to be paid attention to… . and how hard it is because the doctors and nurses are so busy?»
Act 3
Спойлер
(I) may have found.. .
= maybe (I) found… Use may have + a past participle or might have + a past participle to refer to past possibilities. Here is another example: Ellen may have come home after eleven o'clock last night. = Maybe Ellen came home after eleven o'clock last night. (In Episode 25, you will study more about the use of this grammar.)
beyond: outside
guarantee: promise
experiment with: try it with
woods: an area where many trees grow close together; a forest.
queer: strange; unusual
frozen: changed from water into ice
harness: the leather straps and metal pieces used to attach a horse to a vehicle, such as a wagon.
sweep: a quick movement
downy flake: soft snowflakes. This use is poetic.
have promises to keep. Use this structure (have/has 4- noun or noun phrase + infinitive) to explain why someone can't do something else. Here are some more examples: I can't stay because I have work to do. He has a meeting to attend, so he won't be at the party.
U.S. LIFE
Robert Frost (1874-1963) was one of America's most popular poets. He received four Pulitzer Prizes for his poetry. Many of Frost's poems are about life in the country, in rural areas. At the same time, his poems are famous for their philosophical ideas. He once said that his dream was just to write «a few poems it will be hard to get rid of.» Frost's most famous poems include «After Apple-Picking,» «Mending Wall,» «The Road Not Taken,» and «Stopping by Woods on a Snowy Evening.» The last is one of the most frequently studied poems in American schools.
YOUR TURN
Do you enjoy reading poetry?
Have you ever written a poem?
Who are some popular poets in your country?
«STOPPING BY WOODS ON A SNOWY EVENING» By Robert Frost




A. There are four stanzas, or sections, in «Stopping by Woods on a Snowy Evening.» Each stanza has four lines. This poem has an unusual rhyme scheme, the way the poet planned the end rhymes in the lines of the poem. In the first stanza, the final words of the first, second, and fourth lines rhyme with one another (know, though, snow). The final word of the third line (here) doesn't rhyme with the other three lines in that stanza, but it does rhyme with the first, second, and fourth lines of the next stanza. Letters are often used to show the rhyme scheme of a poem. In the first stanza here, the rhyme scheme can be described as follows:
a
a
b
a
The letters show that lines 1, 2, and 4 rhyme, but line 3 is different. Look for the rhymes in the rest of the poem. Which of the following sequence of letters describes the rhyme scheme of the other three stanzas? Check  1, 2, or 3.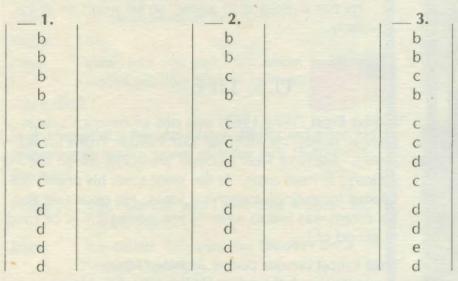 B. Which of the following statements best describes the feeling of the speaker in the poem? Circle 1, 2, 3 or 4.
1. I'm glad that my horse enjoys stopping here with me to watch the snow fall.
2. I'm feeling very cold, so I should hurry to the village.
3. I would like to spend more time enjoying this beautiful scene, but I can't because I have too much to do.
4. I am afraid to travel through the woods in the dark, and I know that my little horse feels the same way.